One of my professional goals is to sit on a Board. I know I can't shoot straight to a Board of Directors without some sort of experience. So when I decided to become a corporate sponsor of a collegiate program that can yield us talent, I got my shot. I was the newest member to their Advisory Board.
Working in Diversity & Inclusion my eyes are always open to what is around me.
Who is speaking?
Who is featured in the marketing material?
Who is leader?
Who is present in the room?
Those are just a few things that circle through my brain when I enter a room. And even just through my daily life.
For example, last week I landed at DFW airport for a work trip. While walking towards the rental car shuttle bus I passed through a crowd of around 30 people.
90% were white men. I counted 3 women. And I saw no people of color. Then there was a sign – Advance Auto Parts Leadership Meeting.
I thought to myself, WOW. There is a lot that is being said just by looking at this group of people waiting to go to their leadership meeting.
…Fast forward to my first Advisory Board meeting.
It is almost 9AM and I walk into the room and grab a seat in the front. I am running a few moments late due to me going to the wrong location.
I sit down and quickly scan the room. I made notes at that moment. I knew I was going to want to write about this later.
---
Before I tell you the breakdown, I want to provide context and my reason for scanning the room shortly after I enter.
This program, like all collegiate programs, is designed to help students find opportunities post-grad. This specific program has a 100% placement rate. Amazing!
There is a lot of emphasis on the curriculum and materials. And a lot of the input comes from the Advisory board. Make sense?
The average college student now has been raised in a household around electronic devices. These students learn differently, need different things and will have different experiences.
Even different from me. And I am only 11 years removed from college.
---
Ok back to the demographic breakdown of the room.
I can't say that everyone in the room was an Advisory Board member. I was one of the few that had that title on my name badge. But if you were in this room, you were contributing to the open discussions of the courses, program and curriculum.
24 members. 10 women. 3 people of color. 5 perceived millennials. And 7 people that had gray hair. And not pre-matured gray hair. Bae has some grays and he is only 36. I mean a full out salt-n-pepper look.
It was not a terrible looking room, I have definitely seen worse. Advance Auto Parts Leadership Meeting.
But what I found so interesting is that the program director relies on this group people for ideas in the industry. A lot of the older members are removed from the front line of service which is where the majority of students will be once they graduate college.
I remember I made a comment at my table about prospecting clients. And one of the older members said "We like to show the value to new hires that sending an email to a client at 10pm at night is a good use of your time. Because now it is at the top of their email list first thing in the morning." *cues Nick Young meme*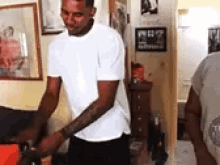 Who are you trying to attract by mentioning 10pm emails? I certainly wouldn't even view an employer's website if that was considered a best practice. That might have worked several years ago, but the student that is graduating now is looking for some sort of work/life balance.
Millennials & GenZ want to work hard, but they don't want work to consume everything.
An advisory board should be able to cater to the demographics of whoever they are governing or aiding. Yes, the room was full of wonderful years of experience and talent. But relatability and comfortability are also important.
An advisory board cannot be completely washed of our baby boomers and GenXers. But there needs to be more men and women that have innovating ideas. And more diversity!
I felt like I was one of the few people coming up with fresh ideas, versus trying to alter the ideas or programs they already have in place.
Talent is so hard to come by now. All markets are saturated, and competition is steep. Everyone has to show up different.
---
I am very excited, probably elated, that I am a contributor to this advisory board. The university & program produces great talent. I look forward to providing my outlook and passion on topics that are relevant to their students and their experiences.
But I think one of the most valuable things I can provide is giving them a real world young professional lens to look through.
Anyone out there a part of an Advisory Board? I would love to hear about some of your experiences.