May is Mental Health Awareness Month.
Mental illness affects one in four Americans, according to the Center for Discovery. There has been new research found that young Black people are less able to get mental health services than white children and young adults.
But this should not be surprising to any of my Black or diverse readers. Barriers to good, not even great, healthcare is something that Black and Brown Americans deal with.
But then you add on the stigmatization of mental health in the Black community – it's taboo. One in three Black Americans who struggle with mental health issues will ever receive appropriate treatment.
---
When a friend of mine randomly cut her hair off, I knew something BIG was coming. I could immediately eliminate a relationship breakup because she has been happily married since November 2015 and their love is dope. The kind of love you can just see.
I knew it had to be something significant she was going to announce. Because this is what we do now, make announcements via socials.
She is creating a safe community for others to reconnect with their authentic selves through personal discovery, and explore conversations around mental illness.
When she wrote this under her Instagram debut – "I do this work because for years I kept my mental health challenges a secret in fear of what others may think. Before I knew it, I was living an inauthentic life that was no longer serving me or my purpose" I immediately knew I had to let her tell her story.
Enjoy!
---
Jemia Young: Hey Jas! I am thrilled you are here sharing your story and your new venture with the DV community. Tell the readers a little bit about yourself.
Jasmine Francis: Thank you for the opportunity! I adore your blog and am so excited to be a part of it.
I'm originally from New Jersey and relocated to North Carolina at a young age. I went to college at East Carolina and studied French. After I graduated I moved to DC, where I got my first taste of corporate America at private equity firm, and I thrived!
I started to take more interest in the people of the organization and became involved in inclusivity, employee engagement, and talent. This led me to obtain a Master's from Catholic University in Organizational Development.
Around this time, my then fiancé Mike and I were also in the middle of planning a destination wedding in Puerto Rico. After our wedding in 2015, we decided to move back to my home state of New Jersey to be closer to family.
Currently, we live in the greater New York City area, and love taking advantage of all there is to do.
I'm an HR Vice President & Chief Administrative Officer at a financial firm where I specifically focus on leading people and strategic business initiatives that impact the organization on a global scale.
JY: Vice President, huh! Yes, sis! What was your plan for climbing to the top in corporate America?
JF: Thank you! I've put in some serious work to get here, and it feels good. My plan has always been to stay focused, embrace the challenges, and take full advantage of any opportunities that come my way.
From challenge blooms growth and that growth is what got me here. I am proud to be a woman of color making strides within corporate America, and I've learned that I've excelled the most when I stay true to who I am. Although that can be hard in corporate environments, my philosophy is to be who you are and let everyone else catch up!
JY: Throughout your career, how many times were you the ONLY Black woman in a meeting? How did that make you feel?
JF: Quite frankly, it really became the norm to be the only black woman in a meeting, and often times I was running those meetings.
Earlier in my career, there were times where I was asked to get coffee for some of my more senior colleagues when I was the one who called the meeting.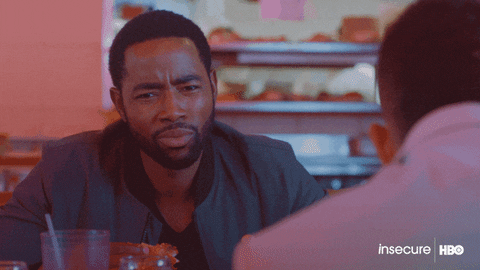 The level of frustration I would feel sometimes put me in a place of defeat and struggle. Eventually, that transformed into motivation; Motivation to change the face of corporate America and to bring my full self to work. To know that I deserve to be there just as much as anyone else and not only that, I've also worked my butt off.
Now that I'm more senior in my career, I have more resources and connections to use my voice in hiring more diverse candidates, especially for senior roles. I also serve as a mentor to other young women of color who may be going through the exact same thing I did.
JY: Let's chat about the Husband! Both of you went to ECU, but not at the same time, right? How did you all meet?
JF: Mike was actually at ECU for a portion of the same time I was, but somehow we never met! He started college three years ahead of me but had to put school on pause when he was called back to active duty before he returned back to graduate.
In 2011 we met online and realized we went to the same college, graduated the same year, both relocated to DC, and even worked on the same exact street!
We became good friends until we realized how deeply we cared for each other and decided to give a relationship a try. We're both so glad we did that! We got engaged in 2013 during an epic surprise trip to New Orleans and later married in 2015.
JY: What did Mike think of the big chop! What was your thought process/reason? What did Mike think? Because girl, you are rocking it!
JF: Thank you!! Me cutting off my hair had everything to do with how I show up for myself. As I'm on this journey, I've learned that showing up for yourself is primary. Showing up for others is secondary.
This year has been one of the most challenging and fruitful years of my life, and my hair absorbed all of that energy. The big chop was my hello to living in a new space that's simple and real.
Mike was totally here for it! He's so supportive and just wanted me to do what felt right for me.
JY: I wish I could go short, but my head is way too big.
Ok so let's talk about this passion you have for mental health. I have no clue where to begin, so I'll allow you to start by telling your story.
JF: You are so beautiful; I know you could rock it!
This is my first time actually speaking publicly about my struggles, so thank you for allowing me a safe space to share my story.
There is power in vulnerability. I share my words with your readers as my truth. Since I can remember, I've always been a go-getter. Challenging myself in every sense of the word to attain what I've learned to be today, ultimate perfection.
Going above and beyond manifested itself into climbing the corporate ladder, joining boards, getting my masters while working full time, being the best version of a friend, the perfect partner, and the list goes on and on. All of that was great, but the more I gained, the more fixated I became on the challenge.
What many people don't know is that I've struggled with depression, anxiety, PTSD, and complex trauma for years. Living up to this existence of a being that had it all together, while hiding my struggles was something I learned to do.
On my most stressful days, I thought to myself, I wish I could be me. A simple thought that would allow me the opportunity to let my shaky legs be visible or tell someone that I can't get out the bed today. What would people think of me? I'm highly functional, no one would probably believe me anyway. And if they did, would they treat me differently?
Even with a fantastic tribe that supports me unconditionally, these racing thoughts kept my inner light dim on most days.
I wasn't ready to give myself permission to be me. Just like with everything else, there comes a breaking point. Mine was when I attempted to take my life.
As painful as it is to write that, the reality was that it was easier for me to silence myself than to tell someone. After endless intense therapy and time with myself in the desolate mountains, I stepped into who I am. The goal here is not to "beat" my mental illnesses; it's to manage them.
It's not to be perfect; it's to live fully and joyfully.
JY: Jas. Thank you. Thank you for sharing and going this deep. It is empowering me to open up to some of the painful realities that I have endured. I hope it inspires someone else as well. Wow!
JF: It's been hard, but I feel like my time is now. As a mental health and authenticity advocate, I now share my story to spread love, healing, and connection.
JY: Yes you are!
OK, I am going to read you some stats around mental health, and I want to know your thoughts.
JF: Let's do it.
JY: 25% of Black Americans seek treatment for a mental health issue, compared to 40 percent of white individuals. Why?
JF: I'm pleased to see that statistic increase, meaning that we're making progress, but there's still work to do. There's often a stigma in the Black community that the health of your mind is something that we have the power to control and change.
Taking care of your mind is no different than taking care of your body. What do we do when something doesn't feel right physically? We go to a doctor that specializes in that area to check it out. Seeking treatment for mental health is no different.
Speaking for myself, there's one word that comes to mind when I think of being apart of the Black community and that word is strength. A part of being strong is having the ability to push in times of adversity. It also means to ask for help when you need it.
This is one of the many reasons why how we raise our youth is so critical.
JY: According to the National Association on Mental Illness (NAMI), only 3.7% of members in the American Psychiatric Association and 1.5% of members in the American Psychological Association are Black.
JF: It would make my heart joyous to see more people of color within the practice and academia of psychology and psychiatry. One of the realizations I had earlier this year is the intersectional complexity of being a Black woman and its correlation to the type of mental health care I need.
I think it's essential to work with mental health care professionals who genuinely see you and who understand how who you are or your beliefs may play a role in your daily stressors. My stance is that these details should be folded into treatment plans; our experiences may look different than other races, religions, cultures, orientations, etc. and should be considered when working with patients.
Although there has been a call to action on cultural competency training for psychiatrists, more of our presence is needed.
JY: I found this one very interesting. Some Black Americans see mental illness as a punishment from God. Up to 85 percent of Black Americans describe themselves as "fairly religious" or "religious," and they commonly use prayer as a way to handle stress. Thoughts?
JF: I'm a firm believer that we are all on our personal journey to show us truth and purpose. How I view mental illness before my life-changing experience and after look completely different. I know that it is not a punishment; it's because of my mental health that I get to live in my power.
I think there are many coping mechanisms to handle stress, and prayer is one of them. There is no correct way to deal with stress; it's about choosing ways that best serve you. For some that may be using the power of prayer to change circumstances and for others, it may be writing down 3 daily affirmations. It's really about what works for you and your intention.
JY: This question is specifically for Black men. How can we start to dismantle the stigma that seeking help/assistance for your mental health does not make you less of anything?
JF: That's a good question. It's a loaded question, and there isn't one right answer for it. There are so many angles to approach this; my initial thought was how the high percentage of black men in prison impacts mental health or the stigma that in the black community, especially for men, seeking help can be considered a sign of weakness.
It really starts with the youth; teaching them that asking for help and being in touch with their emotions does not make young Black boys or men "soft" or "crazy."
Speaking out on how our Black men feel is OK. It's actually desired and appreciated. It does not make them any less of a man; indeed, it makes them more of one. As many Black men consider themselves providers, what better way than to recognize that if your health, specifically mental, is not ok, how can you be the rock for everyone else?
JY: I felt that answer girl. Yes!
With the community you're creating, what can people expect? What is the ultimate goal?
JF: The ultimate goal here is to shift the culture and change the narrative surrounding mental health for the better. I want to normalize the conversation around mental wellness, and that's why I appreciate you so much, Jemia.
Right now, mental health is an area of stigma and assumption; I'm living it every day and want people to know they are not alone. I want fewer people struggling in secret and more people living in their truth; owning their life and being the hero in their own story, not the victim regardless of their mental health state.
Everyone deserves to step out and live fully! People can expect a safe space from me that promotes this message through whispers of inspiration, tips, and some of the jewels of wisdom I've picked up along the way. With me, everyone can expect to be nothing but themselves and show up as who they authentically are.
JY: What is a mantra you live by when you feel an internal storm coming?
JF: My internal storms are usually built on my insecurities and worthiness. My mantra, I am Enough, serves as an affirmation that reminds me that I am perfectly imperfect just as I am.
JY: Any advice for someone trying to figure out step 1 in their mental health journey?
JF: From my perspective, step one is seeing a trained mental health professional who can work with you directly on your concerns. They only know what you tell them, so be completely open and honest about where you are on your mental health journey and what you want to gain. They also have tools and resources that may benefit you along the way. From there you are heading in the right direction!
JY: Jas, this is all great. I am so proud of what you are doing, and it is needed! I cannot wait to see this take off. Before we go, let's end with some fun questions.
Who are 2 people you follow on Instagram who you wish you could be friends with in real life?
JF: There are so many! If I have to pick only 2, it would be Nikisha Riley who was one of the first black women I saw on social media that was so forthcoming and honest about how she lives boldly with mental health challenges. She's absolutely amazing, and she just started following me on IG! I'm still in shock!
My other insta-friend would be Tracee Ellis Ross. Her commitment and compassion towards freedom, equity, and joy feed me on many levels. She's an inspiration, and I'd love to just sit with her and pick her brain on endless topics. I find her so fascinating!
JY: Girl I love me some Tracee! She lives her BEST DAMN LIFE, her way, and I am here for it!
Describe a perfect Saturday morning for you and Mike?
JF: Windows open, candles burning, dancing in the kitchen to our favorite mellow tunes. Ah, that's our absolute favorite; lots of love and laughter!
JY: Current TV binge?
JF: Because I'm very protective over my psyche I tend not to watch much tv. I mostly read and I'm really into music. I use it as a background to my life. Right now, I'm reading "Reconciliation: Healing the Inner Child" by Thich Nhat Hanh and I have Masego heavy on my playlist.
BUT, I just started watching season 2 of She's Gotta Have It! Great show!
JY: Nola Darling…..
Last question, where can everyone connect with you to learn more and join the conversation?
JF: I am so excited for the world to share in their journey with me, and for me to do the same on my website www.jasminedfrancis.com that launches June 10!
I invite everyone to subscribe on my site to be in the know of my launch and all the levels of honesty, joy, and inspiration I have to share. Everyone can also connect with me @Jasminedfrancis on IG, Facebook, and Twitter; I welcome all the love.
JY: Thank you J. Thank you for being vulnerable with me and thank you for sharing your story with others.
JF: Thank you for all the love and support! I really appreciate you allowing me to share my truth with you and the District Valley community.
---
I hope everyone was inspired to do and BE more after reading this. Make sure you share this post with your communities.
As always…